Aeration & Mixing Solutions
The Effective, Reliable Aerator and Mixer for Fine Bubble Aeration
Aire-O2 Aerator and Mixer; an ideal aerator and mixer that offers dual-functionality, fine bubble aeration, horizontal mixing, minimal maintenance, low total cost of ownership, and deep mixing in a small footprint.Aire-O2 Aerator and Mixer, biological nutrient removal (BNR) is now easier and more cost effective by combining mixing, aeration, and BNR in a single compact unit with separate on/off modes. The Triton's proprietary engineered propeller/diffuser results in higher oxygen transfer and greater mixing capabilities up to 33 feet (10 meters) deep. You can simply add the Triton to supplement aeration in your current system, without making any changes to infrastructure; making installation easy and reducing costs.
Waste Management Services
We are also experts in the arena of Waste Management. We have in-depth knowledge in the field and can assist potential clients with strategic information on design and details of Waste Water Treatment Systems with emphasis on recycle and reuse. We have extensive experience in the field of turnkey projects for water and Waste Water Treatment, Pumping Stations, Air Pollution Control, Environmental Impact Assessment and Hazardous Waste Management and have jointly executed over 100 projects worldwide with our Associate. We specialize in 2 main areas, namely, Wastewater Treatment and Solid Waste Treatment.
Solid Waste Treatment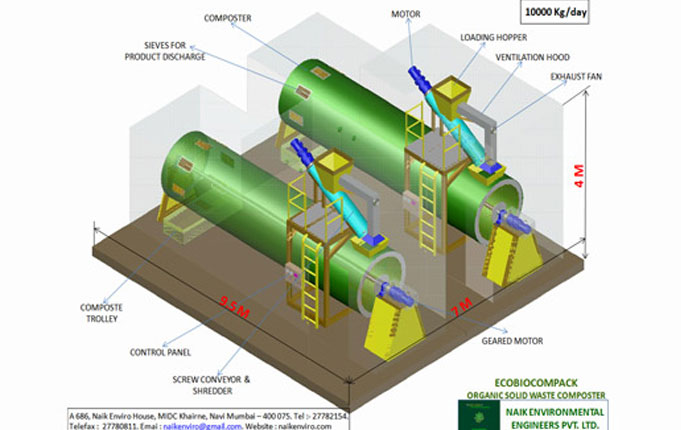 We have recently added a compact aerobic composter/ Organic Waste Converter that can be used to convert Municipal and household solid wastes/ garbage. The product, called ECOBIOCOMPACK is a powerful tool to enable complete de-centralization of Municipal Solid Waste Management (MSWM). The ECOBIOCOMPACK has a sturdy macerator and a composting vessel that operates with the minimum of electricity input. The product has the potential to fit into individual buildings as well as in clusters and communities. It has the capability to eliminate the unsightly and hazardous garbage carriers cluttering the arteries of communities. The quantum of fuel savings accruing from such a decentralized management of MSW would be sufficient to run a massive thermal power plant and also substitute artificial fertilizers in agriculture.
Waste Water Treatment
We offer Waste Water Treatment systems that are radically different from existing systems in terms of the very appearance, ergonomics, function and operation. Our Waste Water Treatment Plants are very elegant, soundless, odorless and highly energy efficient systems with a very simple user interface. The product is called ECOBIOPACK, ECO because it is eco-friendly, BIO for biological treatment being the core of the system and PACK signifying its Package concept.